Who We Are
We love to share our experience with you about the Indian History, Tradition & its culture.
---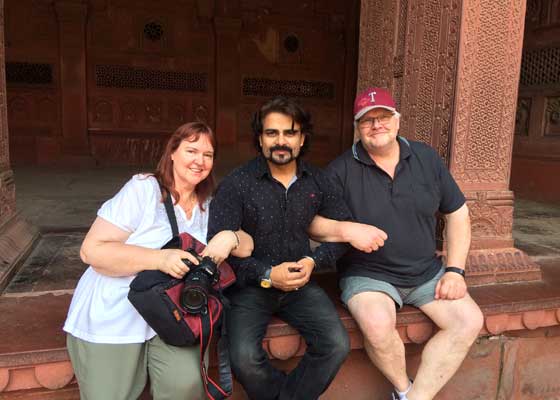 Taj Mahal Tour Guide is a unit of Rajvansh Holidays, founded by Bilal Ahmad.
We are an Agra based Travel Company, providing Private Tours, Linguistic Travel Guides, Holiday Packages, Group Tours, Transport Services, Hotel Booking & more to our guests from different parts of the world like USA, Europe, France, Russia, Japan, Malaysia, Singapore & more covering all major destinations while providing best-in-class stays along with transportation and assistance. We started off initially providing Private Tour Guides for Agra and destinations around.Delhi and Jaipur being the other two most popular destinations for our guests but have gradually build a name for ourselves for providing not just Private Tour Guide but also planning the entire travel for our guests during their visit to India.
All our impaneled guides are approved from the Ministry of Tourism, Govt. of India and are fully licensed to operate out of major sites across India. Years of service and experience coupled with our expertise of handling tourist affairs have earned us an impeccable name for ourselves in providing Private Taj Mahal Tour Guide Services in the city of Agra and travel planning on a Pan-India level.
Over the years, Taj Mahal Tour Guide has carved a niche for itself in providing the Best Private Tour Guide for Agra and resolves to live up to the reputation in the time to come.
Here, we have some of the well-experienced & licensed tour guides in India, who are having more than 25 years of Experience. We also provide all foreign languages spoken Approved Local Expert Tourist Guide as per your needs and requirments. like: (French, German, Japanese, Chinese, Italian, Russian and Spanish etc.).
Most Recommended Tours by Interest
Popular Destinations of India
We've served more than
Over 1000+

guest
from around the world.


|
Posted on:
11 October 2018
Book Bilal for your tour guide in Agra!
Bilal was an excellent Agra tour guide for myself and 2 other Canadian girlfriends that have never been to India before. I would highly recommend booking him! He is kind, knowledgeable, professional and has great communication. He would also be happy to take you to McDonalds if you want it...
Lisa monk | from: Canada
|
Posted on:
12 January 2018
Wonderful day in Agra
Our knowledgable guide Bilal and our expert.driver Agit transported us to the world of the Taj Mahal which is truly one of the Wonders of the World. Bilal not only provided an excellent discourse on the history of the place but we had some interesting political discussions as well. Unlike...
Ursula Garcia | from: Spain


|
Posted on:
13 March 2018
Excellent private tour of Agra
My fiance and I spent two days touring in Agra with Bilal, sightseeing at Fatephur Sikri, Taj Mahal, Agra Fort and Kinari Bazaar. Bilal took us to several delicious local restaurants and was very accommodating of our shopping needs, steered us to several wonderful shops for marble, carpets and jewelry....
Kerri F | from: South Carolina


|
Posted on:
14 January 2018
Agra-Taj Mahal. Fatehpur Sikri
My husband and I went to India with Trailfinders and had an excellent guide Bilal with us in Agra. He was knowledgeable polite and amusing. Thanks so much...we couldn't have had a better guide!...
Sujata & Andrew | from: Malaysia
We are really thankful & greatful to our guest, who booked their trip & travelled with us in India and gave us their precious time to write us about our services.
Read more genuine reviews on TripAdvisor by clicking the button below.
Read more